As they say, the kitchen is the heart of the home and this year there are so many exciting kitchen trends that involve design, décor, celebrating and connecting, so we are breaking it down and share the Top 10 with you!
1. Bringing Nature Inside
Mixing materials will also be a strong trend in 2022 but what you will see is the continuation of bringing nature inside. After a year of collecting plants and greening our living rooms and home offices, it's now time to have fun finding natural materials to spruce up our kitchen.
Natural stone countertops and quality hardwood flooring complemented by a strong metal will add layers to kitchens and add just the right amount of contrast to make the space exude the charming interest homeowners are looking for.
2. Neutral and Harmonious Colour Palettes
All white kitchens will take a back seat in 2022! Upfront will be soft, serene neutral colours reminiscent of nature. Neutral tones pair well with strong colors, like deep greens, rich reds, and blues, which will continue to be the go-to contrasting color scheme to add interest and intrigue to any room.
Harmonious hues found on neutral cabinetry will be trendy for homeowners who want to keep their space very calm and relaxed, while simultaneously introducing a few strong statements to reflect their personality or design flare.
3. 50 Shades of Blue
Blue is having a moment. We're talking cobalt, navy, turquoise – whichever one speaks to you is the blue to use. Now, how do you feel about blue kitchen cabinetry? It's a trend you will see this year, perfectly paired with natural stone countertops and wood flooring in neutral shades.
As long as you don't overdo it, these shades will add depth to your room and make guests do a double take. Don't be shy about alternating blue with wood touches to soften everything. Another idea is to select either the upper or lower cabinets in blue and leave the rest white or use wood. Gold or brass touches on handles, lamps, and other accessories make vibrant shades stand out even more.
4. Declutter the Counter
Yes, you got an air fryer for Christmas. No, you can't keep it on the counter. Minimalism is a huge 2022 kitchen trend, so you have to store small kitchen appliances in the cupboard or the pantry to declutter the countertop. Anything not needed should be stored in a space specifically designed for that purpose, which means built-in shelving, hanging hooks, drawer organizers and more. From spices and bakeware to simple things like the paper towel roll, getting creative with storage helps a kitchen both look and function better. On the plus side, the kitchen will appear bigger and brighter, and it'll keep dust bunnies off your air fryer!
While we are on the topic of countertops, a new study by Houzz found that 35% of those surveyed, or one-third of homeowners splurge on their countertops, with quartz and granite among the most popular materials. Natural stone countertops remain a strong kitchen trend in 2022.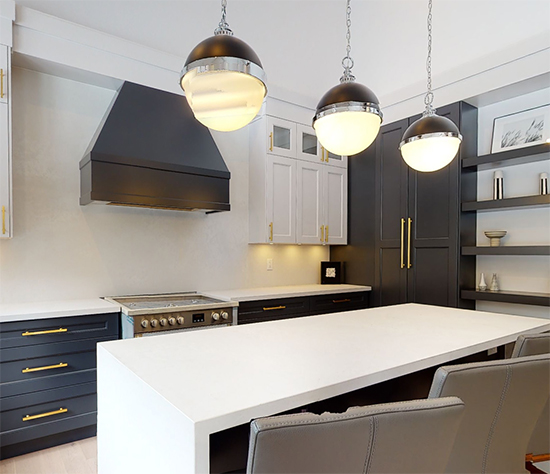 5. Matte Over High Gloss
High gloss is out. Matte is in. A surface with a matte finish absorbs light, as opposed to reflecting it. Matte finishes are chic and contemporary and they are also easier to clean – bonus! Wood remains timeless as a material for cabinetry and this year, a sleek, modern door with no hardware or minimalist knobs and handles, are on trend.
6. Durable Backsplash
Throughout the home, the focus should always be on sustainable and quality materials. The same goes for kitchen backsplashes. Durability and sustainability are what you need in a kitchen backsplash, because it can be easily damaged by humidity, spills and grease. Trending this year are tiles that are more solid and easy to clean. Off-white or beige are still timeless choices, but you could also go out on a limb with darker shades.
7. Lighting is Everything
Large pendant lighting in the kitchen is very 2022. Geometric shapes, huge bulbs, metallic lampshades to contrast the natural shades, all very on trend. Lighting can add a modern and chic touch and there can be variety in the way you light your kitchen. The key is really adding a lot of light to your kitchen. Whether placed above your dining table, central island, or countertop, lighting adds warmth and character to the room.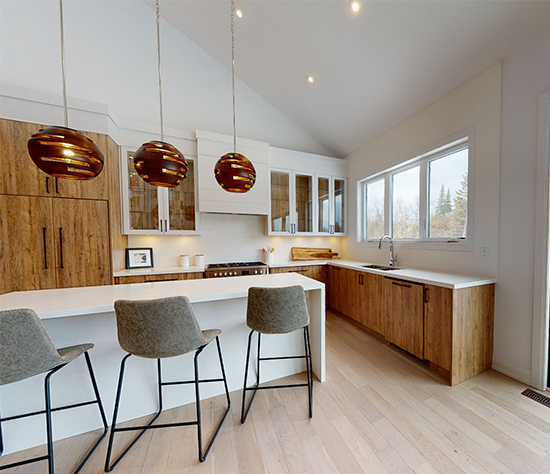 8. Multi-Purpose Centre Islands
The central kitchen island is the best tool in the room. It's multi-purpose and remains a mainstay in our kitchen in 2022. In addition to opening up the room and allowing light to circulate freely, it serves as a breakfast bar, a place to connect with family while cooking a meal and even a zoom-ready workspace with an embedded USB port, a laptop and a fresh cup of coffee. In the Houzz survey, one in five homeowners said that a top activity at their kitchen island is work (20%), which is up four percentage points from 2021.
Homeowners are making space for this activity with nearly two in five islands stretching more than 7 feet in length (39%), up five percentage points from last year, according to the survey. Beneath the centre island countertop, there is opportunity to appliance placement and storage. Often, an island will have a sink and a dishwasher integrated into the design, plus cabinets and shelving to store those small appliances you need to get off the counter.
9. Go For Gold Faucets
You've seen chrome and brushed nickel kitchen faucets, but have you considered a gold faucet? This mixed metal trend is one we will see emerge in 2022, with the need for bold details against a neutral base. Whether it's industrial-inspired, vintage or modern, going for gold in the kitchen is an elegant choice. The pull-out and pot-fillers faucets will continue as strong trends for kitchens this year.
10. Touchless Technology
Every kitchen needs an Alexa – no, not a chef named Alexa. A voice-activated device that can help you keep a running shopping list, find recipes for you and play music while you cook. Touchless technology is one of the biggest trends for 2022 and include touchless faucets, hands-free soap dispensers, smart thermometers that can be pre-programmed using a smartphone and motion sensor lighting. There is even an emerging touchless appliance trend – where dishwashers, refrigerators are manufactured without handles, and are strategically opened using an elbow or a knee.
Most Loved Room in the Home
The kitchen is the most loved room in the home. It is where families come together and connect. It is where you cook, entertain and sometimes, work. In an open concept design, the kitchen is an extension of your living and dining room, with open sight lines, so it should be a comfortable space with a colour palette that makes you feel calm and happy. Not all of this year's trends will be right for every family and every kitchen, but it can be fun to try one or two.
HOUZZ REPORT